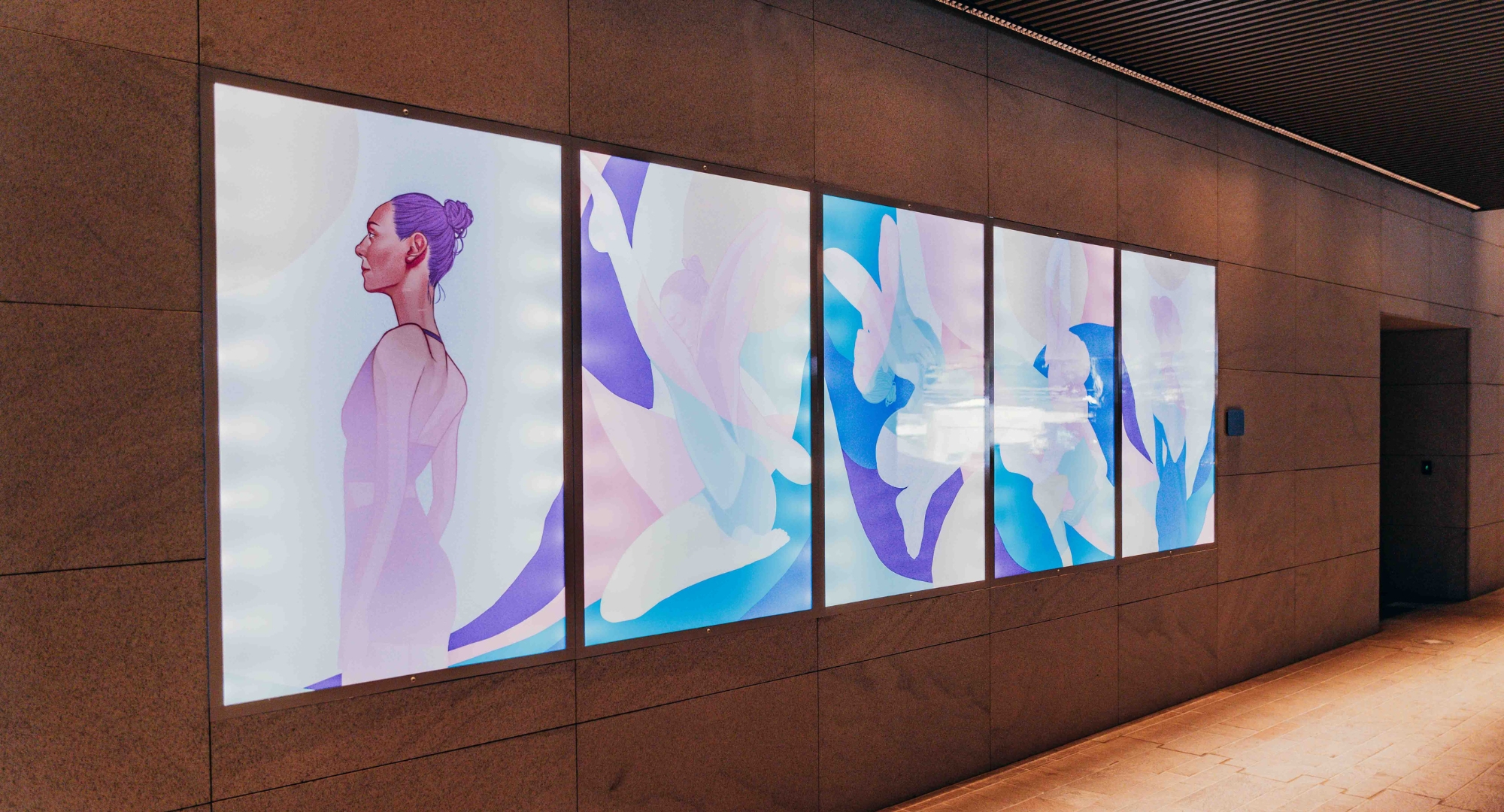 Public Art
Heritage Lanes' public art collection embodies the precinct's core ethos and purpose — to celebrate the site's Indigenous and post-settlement histories, while also embracing its modern community.

Curated specifically for the Heritage Lanes precinct, this public art collection reflects the building's fluid interior design, creating calming spaces where the public can connect with nature.

Developed around the central theme of "Bounty" in honour of the site's Indigenous heritage, this display of public art in Brisbane's inner city echoes the area's natural landscape and weather. The collection includes a sequence of permanent, temporary, and digital artworks that celebrate the site's proximity to the historical Wheat Creek and the Brisbane River, along with its local flora, fauna, and climate.

"Bounty" refers to the original creek which served as a life-sustaining water source for First Nation communities, followed by early European settlers. It also relates to the building's history as a former marketplace, as well as its latest role as a workplace and social precinct for the Brisbane community.
The public art on display at Heritage Lanes is our gift to the local community — we hope you enjoy.
'What Becomes of Clouds'
What Becomes of Clouds by Quandamooka woman Megan Cope will be located in the Market link between the gardens and the laneway. With 28 glass panels, a brass outline of the creek based on a lithograph map of Brisbane from 1863, and digital prints of hand painted watercolour washes, this piece highlights both the power of water and our responsibility as custodians of place.
'Fluency'
Fluency' by Hannah Quinlivan is a suspended artwork fabricated from glass and aluminium. Inspired by the Brisbane River — a source of life, energy, and bounty — the concept builds on Hannah's doctoral research in visual art and alludes to imagery of eddies, currents and rain falling on water to capture and amplify the rhythm of city-life along the river's edge.
"Bubble Flag and 'Bubble Canopy'
Bubble Flag and Bubble Canopy by Spacesuit&Co's Ben Gartland are live-action pieces driven by real-time weather data. Located in the Level 1 foyer, the spectral colours of Bubble Canopy are designed to drift across the screen, generated by the velocity and direction of the live wind conditions from the Bureau of Meteorology. Meanwhile, on Level 31, Bubble Flag is presented on the largest interior video screen in the Southern Hemisphere. Visible to the public across the city skyline from early morning until 10pm, this intersection of art and technology changes colour according to local daylight and cloud density data.
Brisbane Outdoor Gallery Program
In collaboration with Brisbane Council's Brisbane Outdoor Gallery program, five light-boxes located in the cross-block link between Ann and Turbot Streets will host a revolving series of artworks available for the public to view year-round.